KR TEC Co.Ltd
〒359-0015
Hibita 552-1,Tokorozawa,Saitama
TEL:+81-4-2944-5560 
FAX:+81-4-2944-5784

SHINGOH FACTORY
〒359-0016
Oaza Shingoh 204-2,
Tokorozawa,Saitama
TEL:+81-4-2951-5580
FAX:+81-4-2945-8853

MIYOSHI FACTORY
〒354-0045
Kamitome Oaza 1909-4,
Miyoshi Iruma-gun,Saitama
TEL:+81-4-9293-9802
FAX:+81-4-9293-9803


Fiber Protection: Features and Sheathing Material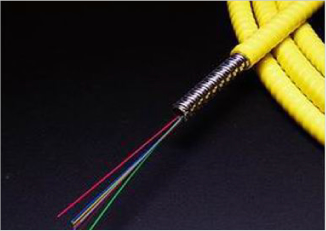 Features
◇Impact resistant ◇Heat resistant
◇Welding sparks ◇Repeated bending
◇Lateral pressure ◇Prevents loss of optical signal

In combination with a Fiber Protection Connector, a variety of sensors can be completelybending. Due to the different types of interlocking and materials used, the Fiber Protection Tubes can be supplied in variety of models. Please inquire for details.
Applications
◇Electrical wire protection ◇Medical equipment ◇Shower Hose
◇Commercial game machines ◇Robotics ◇Rodent protection
◇Lighting ◇Outdoor Video observation cameras ◇Audio equipment
◇Military applications

Fiber Optic Insertion
◇Standard fiber insertion techniques can be used. Through a proprietary process we can also pre-load a roll of tubing with your fiber. Please inquire for details.
Surface treatment
◇Double washing — for high precision applications
◇Chemical Polishing — Extra shiny surface for optical applications
Sheathing with an ECO friendly p
◇As a substitute for Poly Vinyl Chloride(PVC), Olefin Elastomer was developed, which is a highly flexible Low Smoke Zero Halogen (LSZH) product.
Note
ROHS Certification, Cutting tube ends and debarring,Inspection certification upon request
Sheathing characteristic

PVC Colors available
Standard:
●Glossy Black also matte, ●Green, ●Yellow, ●Blue, ●Orange, ○White, ●Grey, ●Pink, ●Red, ●Clear
PVC Sheathing variations: Three